ACTION; 1hr 48min
STARRING: Ryan Reynolds, Morena Baccarin, Ed Skrein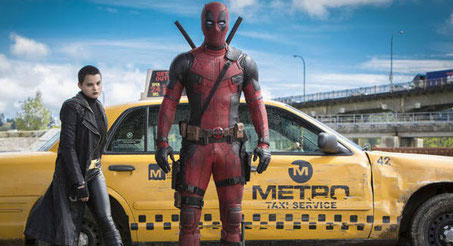 Dead cool: Reynolds (with Brianna Hildebrand)
Any Marvel Comics movie whose opening credits proclaim was directed by "An Overpaid Tool" (real name Tim Wilson) and whose kinetic main man (Reynolds as Wade Wilson/Deadpool) identifies himself as "Pool. Dead." to an accommodating cabbie (Karan Soni) has to be on the right, ridiculous track.
Flashing back two years from a slam-bam intro, former Special Forces agent Wade is a hired gun happily ensconced with his loopy match, Vanessa Carlysle (Baccarin), when he is diagnosed with terminal cancer. Grasping at his one remaining straw, Wade signs up for a too-good-to-be-true cure at the sadistic hands of Weapons X Workshop overseer Ajax (Skrein), whose real name, unfortunately for him, is Francis. Ajax leaves Wade radically mutated, burn-scarred ("like a testicle with teeth"), and condemned to immortality in a head-to-toe, skin-tight suit. Wade is also acutely mindful of his comic-book character status, along with the fact that he's making a movie (what fourth wall?).
Reynolds devours Wade's damnable fate as a combustible cocktail of mordant comebacks and bone-rattling, revenge-bent action. Like lightning in a half-cracked bottle, his cursed freak of nature is the best kind of maniac and Marvel's most out-there anti-supe.