COMIC DRAMA; 1hr 44min
STARRING: Maggie Smith, Alex Jennings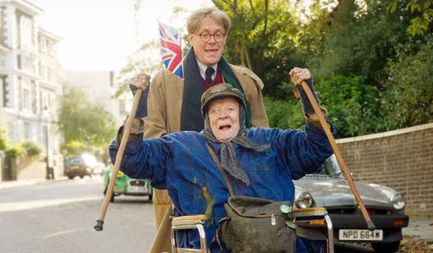 Cane mutiny: Smith and Jennings
English eccentrics are charming to a point that the homeless Miss Mary Shepherd (Smith) has long since passed. Ancient, tatty, peevish and ungracious, the lady and the rust-bucket van in which she lives are a blight on London's genteel Camden Town, where Mary has washed up like a scrap of debris.
The residents put up with her, but it is writer Alan Bennett (Jennings), whose adaptation of his memoir and West End play this is, with whom Mary forms a bristly bond. In one sense, the two share a lone wolf's understanding, Mary having a chequered past and Alan a covert, self-absorbed present. And while they could hardly be said to bring out the best in each other, the tormented geriatric and the unassertive Pom live side by side, with her van parked in his driveway, from 1974 to 1989.
What a morose and, sadder yet, "mostly true" little movie about a life gone so wrong! Yet in casting Miss Shepherd in such an unappealing (and, in the end, piteous to nudging-freakish) light, Smith and director Nicholas Hytner (The History Boys) honour her memory with a warts-riddled frankness of which the caustic survivor would surely have approved.