COMEDY; 1hr 46min
STARRING: Josh Brolin, George Clooney, Alden Ehrenreich, Ralph Fiennes, Scarlett Johansson, Tilda Swinton, Channing Tatum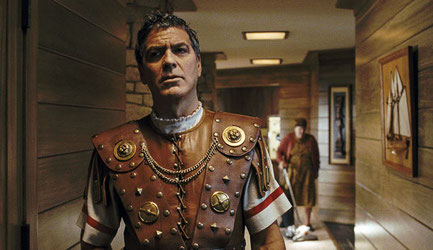 Friends, Romans, cameramen: Clooney
Filmmaker brothers Joel and Ethan Coen's sparkly tribute to 1950s Hollywood hums with big, nostalgic love: the good times are rolling and rolling at Capitol Pictures Studios under the guidance of its tireless head boy, Eddie Mannix (a dead-straight Brolin). 
Or are they? In a killer sequence, frustrated director Laurence Laurentz (Fiennes) is horrified to be lumbered with a hayseed leading man (Ehrenreich as cowboy Hobie Doyle). Tough-talkin' water babe DeeAnna Moran (Johansson) is single and pregnant. And in the most shocking development, witless megastar Baird Whitlock (Clooney) has been kidnapped from the set of the Capitol blockbuster Hail, Caesar! While working to resolve these trying predicaments, a spiritually conflicted Eddie is hounded by rival twin gossip columnists (both played by Swinton) who hate each other. Finally, on a frothily upbeat note, Channing Tatum rocks the house as a tap-dancing sailor.
And that's a wrap! With everybody having an off-the-charts ball and cinematographer Roger Deakins packing one stylish punch after another, the Coens' life in a day is as moreish as a packet of Fantails and as unhinged as the business it's in. We're talking bonbon with bite.