DRAMA; 2hr 6min
STARRING: Daniel Kaluuya, Lakeith Stanfield, Jesse Plemons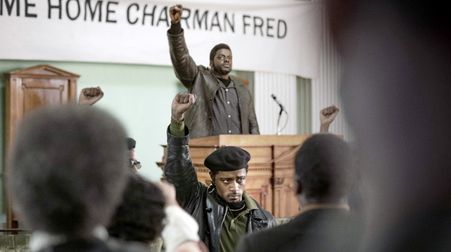 Power play: Stanfield (front) and Kaluuya (rear)
Rabble-rousing Black Panther Party chairman Fred Hampton (Get Out's Kaluuya) and weaselly FBI informant William O'Neal (Stanfield) are diametrical sides of an ethical coin — one polished to a zealous sheen, the other shopworn and tarnished. Introduced as a skeevy thief who impersonates an FBI agent in order to steal cars, O'Neal is recruited in 1968 by actual FBI agent Roy Mitchell (Plemons), who himself knows a thing or two about moral compromise. Having not a huge amount to lose, O'Neal agrees to infiltrate the Panthers' Illinois chapter and ingratiate himself with potential "Black Messiah" Hampton as a lucrative alternative to doing time.
O'Neal takes on the undercover gig in the same conniving spirit with which he lies and steals. But it's not long before he finds himself torn between Chairman Fred's embracing idealism and Mitchell's condemning, cashed-up assurance. "Don't let Hampton fool you," he cautions. "The Panthers and the Klan are one and the same." (Spoiler alert: They're not.)
As O'Neal's double-dealing story unfolds, tension between police and Panthers is heating to flashpoint. He continues down his divisive path, reporting to Mitchell while banging the party drum. The more he wants out of this two-faced life, the more Hampton's revolutionary spirit pulls him deeper in.
It's aptly impossible not to get swept up in the whirlpool of director Shaka King's blazing indictment of prejudice and injustice. The anthemic screenplay by King and Will Benson is inexorable, furious and fuelled by bravura performances, with Kaluuya's inner crusader owning Hampton's every electric speech. Shadowed with sorrow for the damage men do, it's a cautionary blast from the failures of the past and a bang-on message for today's splintered world.