ANIMATION; 1hr 57min (Japanese with subtitles)
VOICES BY: Natsuki Hanae, Akari Kitô, Yoshitsugu Matsuoka, Hiro Shimono, Satoshi Hino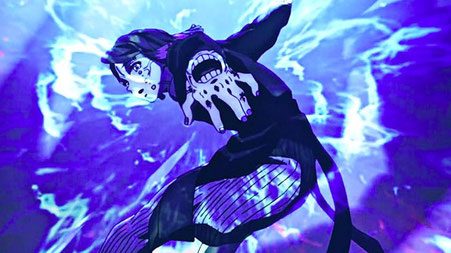 Talk to the hand: Enmu acts up
If the stats on this pop phenom from director Haruo Sotozaki aren't off the charts, they're at least at their tippy top. In mid-December 2020, Demon Slayer: Mugen Train overtook 2001's Spirited Away to became Japan's highest-grossing feature film ever. So what's all the ballyhoo about?
Based on the manga comic by Koyoharu Gotouge, this sequel to the 2019 anime TV series is literally dead simple, plot-wise, so it's no stretch for demon virgins to keep up: When charcoal seller turned slayer Tanjiro (voiced by Hanae), his sister Nezuko and his cohorts Inosuke and Zenitsu board the Mugen-bound night train, their monster-mashing quest is intensely personal for Tanjiro. With his family butchered by a fiend and Nezuko demonised in the blood-soaked process, he has scores to settle and who knows how many lives to save. More than 40 people have already vanished from the train (why a train? I guess you had to be there), and with 200 passengers and a greedy fiend on board, all bets are off.
Under the showy guidance of master swordsman-and-boy-doesn't-he-know-it Kyojuro Rengoku (Hino), the quartet has its dirty work cut out. The only one not sweating it at this point is the demon himself (Daisuke Hirakawa as Enmu). As the train hurtles through the countryside, Snowpiercer-style, he stands serenely on its roof in pinstriped pants and tails, exulting in his badness. And that's only the beginning, for Enmu is fantastically mutable and insatiable to what would be his soul, if in fact he had one.
His nemeses most certainly do. Yet for all its talk of spiritual cores and its waterfalls of agonised tears, the Ufotable studio screenplay barely cuts itself any slack. In a demented paradox of animated grace, its darkness shades to black through slamming face-offs between the might of right and the relentless reach of evil.