COMIC DRAMA, 1hr 39min (Danish with subtitles)
STARRING: Stina Ekblad, Kirsten Olesen, Kirsten Lehfeldt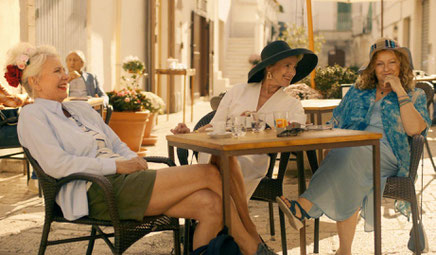 Still golden: from left, Olesen, Ekblad and Lehfeldt
Berling, Marie and Vanja were once can-do besties with the world at their feet, et cetera. Decades later, that limitless world has calcified and shrunk in director Barbara Topsøe-Rothenborg's mellow foreign affair. Berling (Ekblad) is now an ageist rebel whose saucy elegance masks a strained relationship with motherhood. Marie (Olesen) has been devotedly married for 44 years to a weak-kneed stuffed shirt (Peter Hesse Overgaard as Henrik) who ditches her on Christmas Day for a woman with candy-floss hair and a nudging-creepy collection of garden gnomes. Widowed Vanja (Lehfeldt) is unable to move on from (a) the memories of her apparently perfect late husband and (b) her dog, who is very much alive.
It's clearly high time for the friends to reconnect, which they do with pragmatic Danish verve when Berling and Vanja join Marie in Puglia, Italy, for a five-day series of cooking classes that Marie was supposed to be attending with the faithless, tedious Henrik. The trio takes off on a rocky odyssey whose every speed bump will bounce them gently forward, such being the rosy nature of this reassuring beast.
True to gauzy, feel-good form, the rustic villa where the cookfest is held is an art director's five-star dream, its schmoozy how-to classes hosted by a hot dish (Michele Venitucci) with George Clooney genes and preternatural patience. The days aren't all sunshine and limoncello, however — if they were, this coming-of-mature-age journey couldn't have earned its affirming end. Berling's observation while on the town with her buddies that "it wouldn't hurt for you to get some dick" strikes a strangely gross note in the largely novelettish ride, although she does have something of a point. For women, especially, growing older is a trial by fire that both sucks and blows, to paraphrase Bart Simpson; it's a dispiriting message reinforced as the ladies do Italy. Still, who can argue with their closing Life Lesson that, when time tightens its punishing grip, seizing new moments also means letting go?