DOCUMENTARY; 1hr 51min
DIRECTED BY: Frank Marshall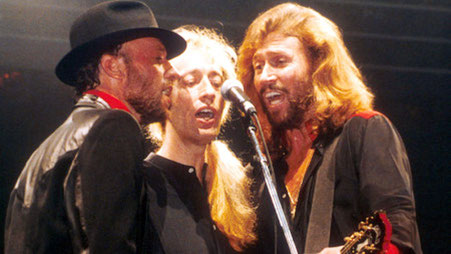 Hair today… From left, Maurice, Robin and Barry
"When you've got brothers singing," Noel Gallagher says about the Bee Gees' soaring harmonies in director Frank Marshall's busy, laudatory doco, "it's like an instrument that no one else can buy." The Oasis singer-songwriter knows of what he speaks, having performed, between blow-ups, with his brother, Liam. The Bee Gees — twins Robin and Maurice Gibb and their big brother Barry, still standing at 74 and ready to reminisce — weathered their share of spats as well, but you'd never know it from the purity of their music. From 1966's Spicks and Specks debut album to the 1978 Saturday Night Fever disco soundtrack, a juggernaut if ever there were one, the boys from the Isle of Man were a global hit factory, with nine Billboard Hot 100 singles, 120 million-plus record sales worldwide, and fistfuls of awards to show for it.
Marshall is at pains to celebrate those stratospheric highs, tracking the lads from the UK to Brisbane, Australia, where the family moved to in 1958, then over to Miami, where the good times rocked and rolled. The director doesn't steer away from the dips — Robin's brief departure from the band to pursue a solo career, the limitations of extreme fame and the disco backlash that burst a gilded bubble are all proficiently covered by a cocktail of archival footage and to-camera insiders' observations.
But the Gibbs' story is predominantly one of turning childhood dreams into transcendent action as masters of the musical art; finding a fresh sound in the falsetto of 1975's "Jive Talkin' ", then later, when the disco spotlights had dimmed, slaying it as songwriters for the likes of Barbra Streisand ("Woman in Love") and Dolly Parton and Kenny Rogers ("Islands in the Stream"). You won't learn a lot about the brothers as individuals, yet in a sense that's beside the point. When "Stayin' Alive" unleashes its awesome opening beats, what more does anybody really need to know?