ROMANTIC DRAMA; 2hr 1min (French with subtitles)
STARRING: Noémi Merlant, Adèle Haenel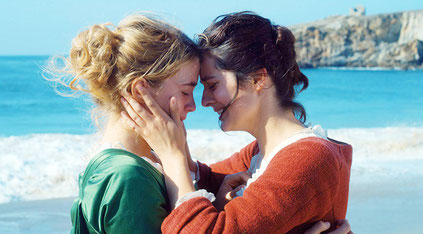 Undercurrent: Haenel (left) and Merlant
Marianne (Merlant) is a pipe-smoking artist and the resourceful sort who leaps from a rowboat into the surging Brittany ocean to retrieve a coated canvas while decked out in woollen stockings and a voluminous skirt, this being the repressive late-18th century. She'll need all the moxie she can muster after being hired to paint an unwilling subject (Haenel as Héloise) while covertly observing her as her supposed companion.
Not only is this an artistic stretch for anyone, but the island on which Héloise and her commanding mother, La Comtesse (Valeria Golino), have a home is as desolate as their lingering mood. Outdoing herself in the Maternal Meddling department, La Comtesse is forcing Héloise into a marriage to Héloise's late sister's fiancé, said sister having jumped off a cliff. Engagements don't come more depressing than that, and a livid, frustrated Héloise wants nothing to do with a future in which she has been allowed no choice. Having refused to sit for a marital portrait, she's guarded and prickly, but Marianne is a patient observer, and in the days that follow her arrival, the two grow close on their windswept walks as Marianne's guilt about her secret mission escalates.
Filmmaker Céline Sciamma's contemplation of the storm that will sweep the two women away comes most strikingly alive through what they leave unsaid. It's not that Marianne and Héloise don't talk—they do, about music, art and, like lovers everywhere, about each other. It's more that you can almost hear them thinking, so inward-looking and unvarnished are Merlant and Haenel. (In her own quiet way, Luàna Bajrami also blossoms as Sophie, the surprising maid.)
When time together is fleeting, it becomes a crucible in which every moment is an affirmation. Knowing they're destined for separate, unwished-for lives makes the days Marianne and Héloise do have the most precious they will ever spend, at first as an expression of their innermost truth, then later, in the years to come, as a sustaining memory they each will carry with them.