DRAMA; 2hr 16min
STARRING: Sam Clafin, Aisling Franciosi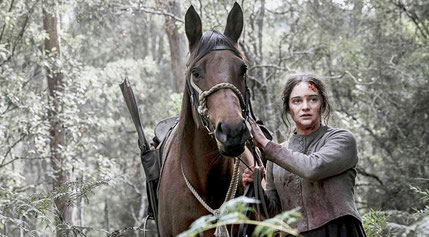 The evil that men do… Franciosi
Irish convict Clare Carroll (Game of Thrones' Franciosi) has the weight of a Brave New World on her too-young shoulders. Tasmania in 1825 is chilly, its fierce beauty unforgiving, but its new inhabitants are a far worse prospect: even though her seven-year sentence has been served, as the "property" of the sadistic Lieutenant Hawkins (Me Before You's Clafin, ditching his romance-friendly persona with a vengeance), Clare is punching bag and sexual prey.
When her hopeless case implodes in a sickening scene, the bereft 21-year-old is mad as hell and hell-bent on payback. She hires a leery Aboriginal tracker (intuitive first-timer Baykali Ganambarr as Billy), whom she treats with a racism that feels squirm-inducingly familiar. They go after Clare's abuser, setting a madwoman's course through the edge of reality.
The wilds of writer-director Jennifer Kent's Van Diemen's Land are hell reconfigured, crawling with earthly demons and despair. As she did so chillingly in 2014's The Babadook, Kent gives that darkness free reign—this time to wearing effect. With Clare's sustaining rage as animalistic as the men she's chasing, the resulting bouts of violence are putrid and confronting. The tenderness of her emerging bond with Billy is a scant defence against such mass inhumanity, of which, at 136 uncompromising minutes, there's an inordinate amount. But Franciosi and Ganambarr make a deeply felt statement. As an affirmation of the possible, their union is a vital spark of light.