COMIC DRAMA; 2hr 41min
STARRING: Leonardo DiCaprio, Brad Pitt, Margot Robbie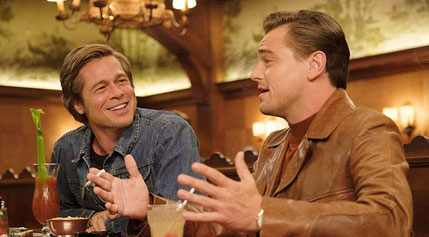 Hey dudes: from left, Pitt and DiCaprio
Since writer-director Quentin Tarantino's ninth feature started shooting in June 2018, the buzz around it has crested to the kind of sustained fizz only a big-time auteur can dream of. Aside from its killer cast, the story-line, which juxtaposes the tinselly nostalgia of 1969 Hollywood with the stoner darkness of the murderous Manson Family, is a premium grabber whose delivery is one long high. Wrapped in the threads of Tarantino's dream-weaving web, every frame is a gift. What is there not to be excited about?
Not surprisingly, not a single thing. The director dives into his typically exuberant creation with a spotlit splash, powering on and on through the fickle fortunes of fictional, gone-to-seed TV cowboy Rick Dalton (DiCaprio, a fraught joy) and his dark-horse stunt double, Cliff Booth (Pitt). Struggling with his failing career in the face of Hollywood's tarnished Golden Years, Rick drinks and smokes more than anyone should while marinating in dissatisfaction as he goes about his quasi-heroic business. Dogsbody Cliff seems more of a mellow, flow-going guy—although, as it turns out, one it isn't wise to mess with.
Roaming the periphery of the sun-sparkled Los Angeles that Rick and his ethereal next-door neighbour Sharon Tate (Robbie) call home are the dippy-hippie members (Dakota Fanning, Austin Butler, Margaret Qualley et al) of drifter Charles Manson's (Damon Herriman) self-styled Family, who are, emphatically, nowhere near as laid-back as they look. How these disparate lives intersect in a commingling of modern history and imagination sees Tarantino in psyched and juicy form. Lovingly detailed, visually resplendent and spiked with knowing intent, his blast from a paradoxical past is a death of innocence whipped into a deceptively fluffy soufflé.