DRAMA; 2hr 12min (Korean with subtitles)
STARRING: Kang-ho Song, Hyae Jin Chang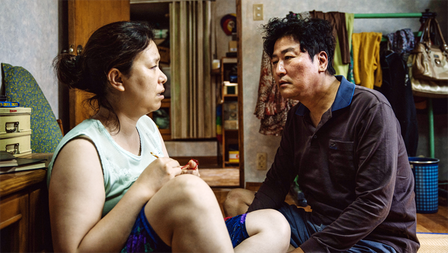 Down-home: Chang and Song
Ki-woo (Woo-sik Choi), out of work like the rest of his hard-up South Korean family but with university ambitions all the same, has his squalid world seriously rocked when, with a set of forged credentials, he takes a job tutoring English to the teenage daughter of the loaded Park family. This being the latest offering (and 2019 Cannes Film Festival Palme d'Or winner) from the febrile mind of writer-director Bong Joon-ho (The Host, Snowpiercer), the ramifications of Ki-woo's sneaky move are bound to fall hard and fast.
Do they ever! On day one, Ki-woo artfully finagles a job for his equally unqualified sister, Ki-jung (So-dam Park), teaching "art therapy" to the family's indulged young son. He does this by passing off Ki-jung as Jessica, a fellow academic.
"Jessica" proves as devious and resourceful as her brother: with rat cunning and in short order, their feckless father, Ki-taek (Song), and punchy mother, Chung-sook (Chang), are employed by the Parks as their replacement chauffeur and the housekeeper of their designer pile, once again under false identities and pretences. The interlopers are wallowing in a hog heaven they could only have dreamt of—until the wrath of God slams down upon them.
Karma can be an ungovernable force. Nose-thumb it at your peril. To their eternal credit, Bong's ensemble cast keep their purposeful act together through every jolting detour, no mean feat as his incensed creation caroms from cred-stretcher to hellish delirium before crash-landing in a screaming heap of vengeance. Parasite is a scathing indictment of the chasm between haves and have nots, unspooling from the absurd to the tragic with the ease of a master of lunatic art. It's a twisted hoot—until it chooses not to be.