ANIMATION; 1hr 40min
VOICES BY: Tom Hanks, Tim Allen, Annie Potts, Tony Hale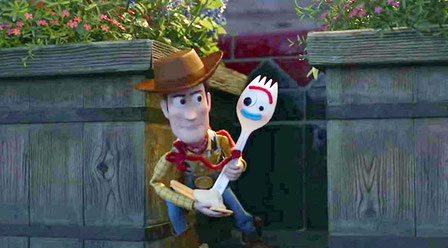 Nursery ninja: Woody takes Forky in hand
Incredibly, nine years have passed since Woody (voiced by Hanks), Buzz Lightyear (Allen) and the plaything gang last did their irrepressible bit, but the intrepid buddies have lost none of their rubbery bounce. And so it is that after an 007-worthy opener, off they trot on a road trip with their new-kid custodian, Bonnie (Madeleine McGraw), and her folks. Alas, the ride goes horribly awry when toy newcomer Forky (Hale), who has drastic self-esteem issues despite being Bonnie's current pet, ungraciously does a runner. Woody, being Woody, sets off in valiant pursuit, only to be hijacked by another child. Meanwhile, Buzz is circus fodder after a failed rescue and retrieval of his right hand. Toys! Is there no stunt they're not up for?
Not in this alternaverse! First-time director Josh Cooley is all over colour and movement as Woody's on-the-road reunion with a sassy Bo Peep (Potts) clears the stage for a cluster of damaged souls: pretty-creepy dolly Gabby Gabby (Christina Hendricks) is hungry for a love for which the leering ventriloquist dummies who do her bidding are a poor substitute; scratch his diminutive surface and Canadian motorcycle stunt rider Duke Caboom (Keanu Reeves, upping his cool quotient even further) is a blustering mess.
It's a foregone conclusion that the good guys will come through at whirlwind speed, jazzed by a heaping of snappy repartee. And if the ankle-biters in the audience aren't up for the nuances of that, there's always the next-level animation and the bigger picture, with its emphasis on loyalty and love…
Any film with a 4 in its title won't be messing with a failsafe formula. Woody and the team are a big ol' bunch of softies, and fans of their daredevil antics are bound to feel instantly at home. Who cares if they've seen the likes of it all before? The safety zone of old friends is a haven for the ages.