DRAMA; 1hr 36min
STARRING: Maggie Gyllenhaal, Gael García Bernal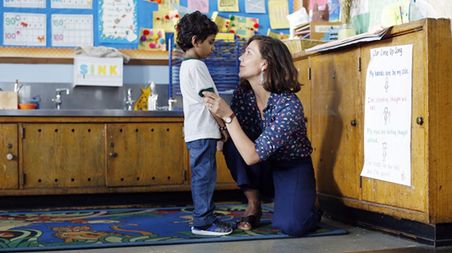 Carpe diem: Gyllenhaal and Sevak
Lisa Spinelli (Gyllenhaal) is a New York kindergarten teacher of 20 years and the sort of dark horse who passes off the poems of a five-year-old whizz-kid student (Parker Sevak as Jimmy Roy) as her own in the class she's been taking with no notable success—until Jimmy's work enters the picture.
Jimmy's poems are the genius of simplicity as beauty. ("Anna is beautiful/ Beautiful enough for me/ The sun hits her yellow house/ It's almost like a sign from God.") When Lisa's poetry teacher (Bernal) and classmates embrace them, she becomes a woman awakened and possessed, hungry to further understand the otherwise childish Jimmy's gift and to cultivate its expression.
That's all very dedicated—although how closely bound to Lisa's preoccupation with her own poetry is debatable. It's also more than a tad disturbing as her intensifying investment erases the boundaries between professionally caring and ethically inappropriate. Her home life, meanwhile, trundles along, her solid, unremarkable husband (Michael Chernus) and two distracted teenage kids (Daisy Tahan and Sam Jules) not having the least idea that the lady of the house is losing her grip.
With her porcelain-doll prettiness, Gyllenhaal is perfectly cast by director Sara Colangelo in her disquieting remake of Israeli filmmaker Nadav Lapid's 2014 original: Lisa's actions carry the weight they do largely because they stand in such glaring contrast to the safely demure image she presents. Compelled by her craving for what she knows she can never have, she grows reckless and irresponsible. And yet, in her passionate belief in Jimmy's extraordinary talent, what if she's also absolutely right?