DRAMA; 2hr 13min
STARRING: Amandla Stenberg, Regina Hall, Russell Hornsby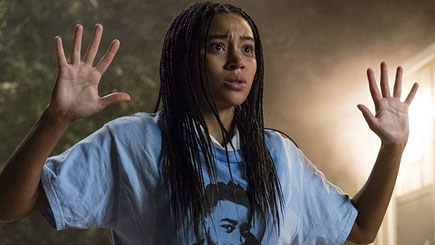 At 16, Starr Carter (Stenberg) is already a mean compartmentaliser, describing herself as a girl of two versions. Version One lives in a largely black, downscale community, where her father, Maverick (Hornsby), owns a grocery store. Courtesy of Starr's lioness mother, Lisa (Hall), Version Two attends a prestigious, lily-white private school. She's also dating a white boy (K.J. Apa) she hesitates to introduce to Maverick, who's too cool for any school and has laid it out to his three kids never to mess with police who are emphatically not their people's friends.
The socially savvy Starr keeps her twin selves on well-oiled tracks—until they're both blasted out of the water by a (white) policeman (Drew Starkey) who fatally shoots Starr's (black) childhood friend, Khalil (Algee Smith), after mistaking Khalil's hairbrush for a gun. Struggling to stay intact at school, Starr is haunted by the trauma of watching her friend die. And when the officer responsible looks likely to be exonerated, the pressure mounts for her to take a stand—not only for Khalil and innocent victims like him, but against the drug dealer (Anthony Mackie) for whom he was financially compelled to work.
Directed by George Tillman Jr (Soul Food) and adapted by Audrey Wells from a 2017 YA novel by Angie Thomas, The Hate U Give was inspired by the 2009 police shooting of 22-year-old African American Oscar Grant, a killing that would also give rise to 2013's Fruitvale Station. Adding extra punch, Thomas took her spot-on title from rapper Tupac Shakur's Thug Life tattoo, an acronym for "The Hate U Give Little Infants Fucks Everybody."
Hatred and its permutations are incontestably toxic, and Tillman isn't about to let up on it for a second. His sprawling, furious movie is equal parts heavy viewing and exhaustively effective, for what is there notto be outraged about here? Not a damned thing, and as the nexus and conscience of the ballooning chaos, camera-magnet Stenberg blazes through every tub-thumping, gut-wrenching scene with unswerving awareness. By the time Starr finally demands to know "How many more of us have to die before y'all get it?" no one in the cinema is in doubt about the answer.