DRAMA; 2hr 30min (Italian with subtitles)
STARRING: Toni Servillo, Elena Sofia Ricci, Riccardo Scamarcio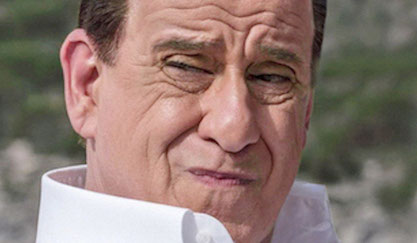 Armed with a ton of creative latitude, filmmaker Paolo Sorrentino takes a heady trip through the A-B-C of decadence that constituted Italian Prime Minister Silvio Berlusconi's lurid private life. Spanning 2006 to 2009, Sorrentino's hallucinatory romp is a debauched smorgasbord of sexy flesh, suggestive music and macho power plays that positively scream #MeToo. 
The orchestrator of Act One is self-described "talent scout" Sergio Morra (Scamarcio), whose primo aim in life, when not snorting coke and going hard at banging sex, is to meet the man he refers to only as "Him." Sergio is a clubby type with a keen eye for a hot girl, but when he surfaces some 45 minutes in, no one is clubbier than Berlusconi himself (The Great Beauty's Servillo, happily reunited with Sorrentino).
With his dip-dyed burgundy bonce and knowing, feline smile, the 70-year-old centre-right coalition leader has the impish air of a leprechaun. And yet, despite his obscene wealth, the fabulous trappings of his coastal villa and the hot/cold running femmes who sexily come and go from it, "Mr President" is frustrated. Banished to the Opposition, bereft of purpose, he craves the lost power he and his crooked cohorts go all out to regain. Too bad for Himself that power isn't always the regenerative buzz it's cracked up to be.
That, more or less, is the spine of the story, "story" being the operative word, as in fictionalised to the mischievous nth degree. Wrapping a cheesecake skinfest in a sharp-edged, speculative character study has to be a risky way to go, even for a master of a splashy canvas. Measured and subtle this free-for-all is not. But when you're dealing with a character who, to quote his deeply disillusioned wife, Veronica (Ricci), is "one long, uninterrupted performance … [surrounded by] scumbags and whores," risky makes surreal and perversely fascinating sense.