SCI-FI ADVENTURE; 2hr 8min
STARRING: Chris Pratt, Bryce Dallas Howard, James Cromwell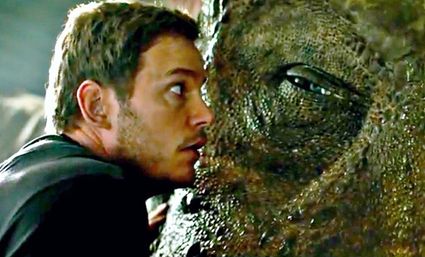 Merry dance: Rudd (left) and Coogan step out
All is far from well on The Orphanage director J.A. Bayona's ill-starred Isla Nublar, three years after the meltdown of its dinosaur theme park saw the disaster site metaphorically shuttered. As Nublar's volcano seethes, genetically engineered leviathans continue to roam, swim and chomp while on the mainland, assorted suits (greetings, Jeff Goldblum!) vainly attempt to work out what the eff to do with them.
Meanwhile, wheelchair-bound philanthropist Benjamin Lockwood (Cromwell) has a secret rescue-and-relocation plan in place. For that to pay dividends, he urgently needs the combined expertise of estranged couple Owen Grady (Pratt) and Claire Dearing (Howard, happily ditching the killer stilettos that rivetted audiences in 2015's Jurassic World). The behaviourist and the former park manager agree to help corral the lost beasts, presumably because without them, Fallen Kingdom would never have happened.
And what a shame that would be: no sooner do Owen, Claire and their ill-assorted posse touch down on the lavishly forested isle than the joint commences to thunder and jump. Between the exploding volcano and the stampeding beasts, the stars are drowning in disaster motifs well before old-fashioned human treachery kicks in. Forget moving their scaly quarry to a halcyon island: the captured dinos are slated to be auctioned off as capitalist warmongering tools, their initial destination the basement prison of the unwitting Lockwood's estate. Roar!
With the Homo-sapiens cast in all-business mode, the dino-might component is Kingdom's real drawcard, as it rightly has been since author Michael Crichton dreamed it up in 1990. We've caught their romping stomp in four movie incarnations, but no matter, the beasts are still an eyeful, fired with ferocious beauty even when fuming behind bars. Confinement is zero fun for anyone, after all; ditto sermons on the moral compass of genetic engineering. When the reptiles get their groove on, all sanity bets are off. And about time, too.