ROMANTIC DRAMA; 2hr 3min
STARRING: Lily James, Matthew Goode, Michiel Huisman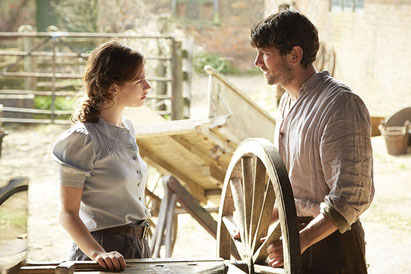 Getting to know you: James and Huisman.
The almighty mouthful of the Guernsey Literary and Potato Peel Pie Society was born of inventiveness on the Nazi-occupied English Channel island of Guernsey one boozy night in 1941. Five years later and picture-pretty London author Juliet Ashton (Cinderella's James) is charmed from her cosy Lavender Lane digs, her dashing American fiancé (Glen Powell) and her solicitous publisher (Goode) by a chance correspondence with Guernsey local Dawsey Adams (Huisman), in which he explains how the society came to be.
Off Juliet pops (this being the embraceable brand of period piece in which pop one most definitely does) to Guernsey for a Friday-night society meeting. The plan is to stay the weekend—which anyone and their blind dog can see is never going to happen for reasons we'll get to—and to write an article about the society for The Times. But plans can be contentious and when this one doesn't fly with protective society stalwart Amelia (Penelope Wilton; her mixed-bag fellow members are Huisman, Katherine Parkinson, Tom Courtenay and Kit Connor), Juliet feels compelled to shine a light on the past.
As for those other reasons why the lady is so smitten: Guernsey is a postcard paradise with a craggy, windswept edge, the Peelers are soulmates anyone would covet and Dawsey has to be the most handsome pig farmer on the planet, plus there's an abundant supply of homemade gin. Meanwhile, director Mike Newell, whose résumé includes Four Weddings and a Funeral and Donnie Brasco, keeps a pro's grip on the shifting moods. There's rarely any doubt how its bumps will level out, but in its picturesque and distinctly British fashion, Juliet's unexpected journey spans a sweep of emotional ground.