COMIC DRAMA; 1hr 40min (Finnish with subtitles)
STARRING: Sherwan Haji, Sakari Kuosmanen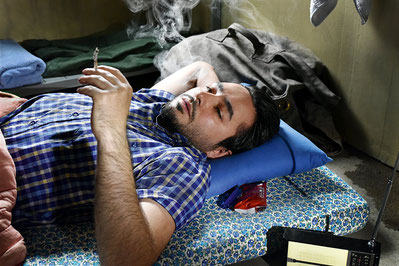 Syrian refugee Kahled (Haji) turns himself into police after covertly boarding a cargo ship and ending up in Finland. Consigned to a Helsinki reception centre while he seeks asylum, he's as warily self-contained as would conceivably be anyone who has lost most of his family and any semblance of a home and a future.
Meanwhile, morose, middle-aged travelling salesman Wilkström (Kuosmanen) takes leave of his silent, vodka-sodden wife, sells his stock of shirts and purchases an unprepossessing restaurant with his winnings from a poker game. The only initial connection between these two walled-off men is their joyless fixity of purpose, detailed by writer-director Aki Kaurismäki (Le Havre) with his habitual businesslike finesse.
Kurismäki isn't one for splashy gestures: his cinematic habitats are as idiosyncratic as they are utilitarian and unadorned. But even if grandstanding were his directorial thing, there's no call to overstate Kahled's all-too-common plight. As a displaced person at the mercy of an indifferent bureaucracy in a country whose language he doesn't speak or understand, he is exiled in limbo. Even when the exile encounters the inept restaurateur (in a meet as perversely cute as a skirmish by garbage bins can be) and events take a gently affirming and batty turn courtesy of Wilkström and his off-centre staff, the straight-faced players rarely crack a smile. And a very good thing, too: with light and shade the order of the day, the happy gift of the closing shot is so much the sweeter for being so well earned.