ACTION ADVENTURE; 1hr 49min
STARRING: Tom Cruise, Cameron Diaz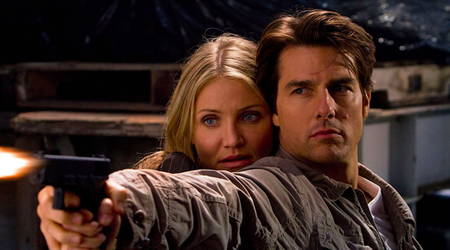 Trigger happy: Diaz and Cruise
Even for a big-ticket actioner, Knight and Day is off the adrenaline charts. Cruise and Diaz are in sleeked-up megastar shape as hot-shot — and possibly deranged — agent Roy Miller and golden Boston girl June Haven, who blunders into Roy's combustible path while on a flight home and falls for his Cruisey charm right then and there.
June restores cars for a living, which in no way prepares her for the express-train wreck that is Roy's ambiguous MO. In less time than it takes to activate an explosive device, coolest-customer Roy is shooting everyone and he and a panicky June are not so much on the run as running riot.
A much-coveted super-battery is the cause of it all, but this time out the fancy-dancy, continent-hopping, tricky-dicky journey really is the destination. Presumably with the attention span–challenged in mind, director James Mangold (Walk the Line) and his show-pony leads keep the plane, train, automobile, chopper and motorcycle wheels at pre-digested, top-speed, prettily packaged spin. It is perpetual motion as commercial art.