ANIMATION; 1hr 36min
VOICES BY: Ed Asner, Christopher Plummer, Jordan Nagai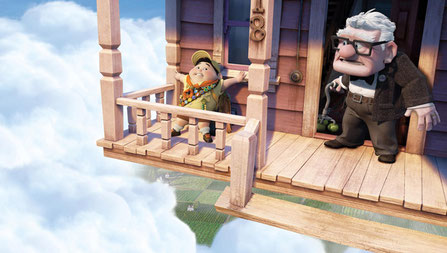 High rise: from left, Russell and Carl
With a silent-movie sensibility and a joyous gloss all their own, the elves at Pixar Animation Studios run merrily through the life and times of Carl Frederickson (crustily voiced by Asner), frustrated adventurer, balloon salesman and devoted husband, bereft by his wife Ellie's death.
At a lonely 78, Carl seems consigned to the geriatric scrapheap. But it's then that the mind-blowing third act of his life begins when, with inspired defiance, he ties a huge bunch of helium balloons to his old wooden house and floats away to South America. Carl isn't alone — eight-year-old butterball Russell (Nagai) is inadvertently on board. And that's just as well, since a floating house has its down and dangerous side.
Orchestrating the impossible is a Pixar specialty. But even for them, this is one crazy diamond from director Pete Docter, with its giant bird, talking dogs, demented explorer (Plummer) and rip-roaring turns for the worst. The animation is an art form and the voice cast is at full empathic throttle. And the Happily Ever After ending is every optimist's dream come true.