ANIMATION; 1hr 40min
VOICES BY: Chris Pratt, Will Ferrell, Will Arnett, Elizabeth Banks, Liam Neeson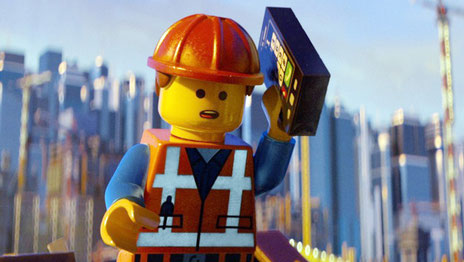 Question one: how does guileless every(Lego)man construction worker Emmet Brickowski (voiced by Pratt) find himself sorely mistaken for a master builder and on a mission to nix a catastrophe? In the frenetic candyland of Lego (and oh, how that L-word keeps cropping up!), where reason plays by erratic rules, diabolical President Business (Ferrell, loving it) is hatching a sticky master plan around a tube of Krazy Glue and hows pale into insignificance before visual wows.
So it is that Emmet, a conformist nobody in everybody's book, winds up careening through a mind-bending, minutely assembled compass of surreal Lego worlds with snarky Batman (Arnett) and his foxy gf, Wyldsyde (Banks), all hotly pursued by a Good/Bad cop (Neeson) with a dual personality and a rotating head. Which brings us to question two: can Emmet save the plastic day?
Let's just say the answer lies in the myriad details, which, under the cheeky direction of Cloudy with a Chance of Meatballs' Phil Lord and Christopher Miller, are popping with pep. Little kids will be flat out taking them in. Big ones get to play all over again.