DRAMA; 1hr 41min
STARRING: Annette Bening, Julianne Moore, Mark Ruffalo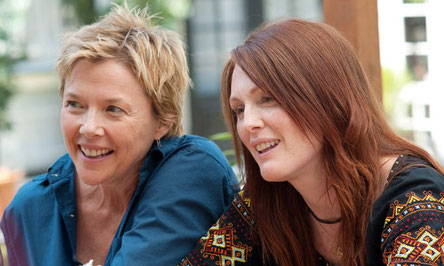 Pop culture: Bening (left) and Moore
In an intimate movie, the performances are paramount. And being the story of two solidly-middle-class married lesbian parents (Bening and Moore as Nic and Jules) whose sperm-donor teenage kids get to know their cruisey biological dad (Ruffalo as Paul), The Kids Are All Right is as personal as can be.
Paul's first meeting with 18-year-old Joni (Mia Wasikowska) and 15-year-old Laser (Josh Hutcherson) at his Southern California organic restaurant is as awkward as you'd expect. Then when Mark becomes a constant familial presence, alpha-doctor Nic and her quirky other half come to very different terms with the new man in their midst.
Bening and Moore are sparky, real and as lived-in together as well-worn shoes. They play every scene bump for bump, never shying away from hitches and rough edges. They're in terrific company, too, with director and co-writer Lisa Cholodenko (Laurel Canyon) delivering naturally great performances from every member of this re-imagined family as it struggles to hold steady when rules of thumb no longer apply.