MUSICAL DRAMA; 2hr 38min
STARRING: Hugh Jackman, Russell Crowe, Anne Hathaway, Amanda Seyfried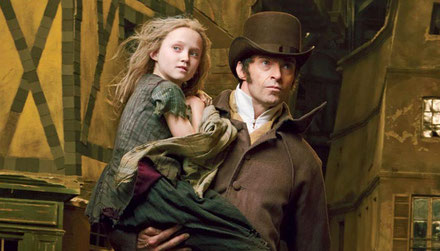 Man of conviction: Jackman (with Isabelle Allen as young Cosette)
"Epic" is a rah-rah term in cinema-reviewing circles but it leaps to mind and lodges there with Victor Hugo's 1862 doorstop-sized (1,900 pages in French!) novel Les Misérables. Blasting forth as a stirring howl of outrage, The King's Speech director Tom Hooper's impassioned moral statement is adapted from the 1985 stage musical based on the book. It's the umpteenth screen version of Les Mis, and it's a beauty.
Beginning in 1815 and spanning 17 years, the sprawling narrative is essentially the history of convict Jean Valjean (Jackman), released from 19 years imprisonment by the unforgiving Inspector Javert. Eight years later, Valjean has broken parole and reinvented himself as a small-town mayor and factory magnate. But an ethical reckoning awaits him with the tragic fate of waifish Fantine (Hathaway) and her downtrodden daughter, Cosette (Seyfried as an adult).
Jackman is the ascendant star of a powerhouse cast, all pouring their hearts into singing live. Valjean's unerring desire to do good is the tender centre of Hooper's colossal and visually glorious structure. In that, as in its conviction that love will win out, the towering story hits eternal notes.