ACTION; 1hr 57min
STARRING: Chris Pine, Casey Affleck, Holliday Grainger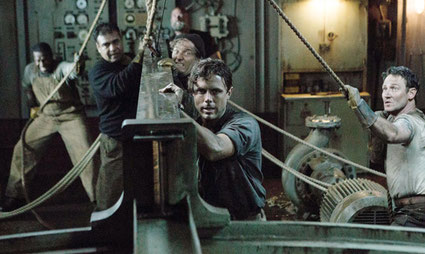 Iron men: Affleck (front) leads the charge
Wellfleet, Massachusetts, is as frosty as a snow globe on the November 1951 evening that coastguardsman Bernie Webber (Pine, upstanding) meets his ladylike yet steel-spined fiancée-to-be, switchboard operator Miriam (Grainger). That peace blows apart three months later when a gale-force nor'easter hits and the ocean boils into a frigid inferno.
Off the coast, the oil tanker SS Pendleton has split in two. The bow has sunk and, according to lone-wolf chief engineer Ray Sybert (Affleck), the stern has five hours remaining flotation. Playing for time, Sybert runs it aground on a submerged shoal. Trapped on board, the crew await a rescue that would defy believability if, thanks to Bernie and his three-man contingent, it hadn't really happened.
Director Craig Gillespie knows not to tinker with such sturdy bones. His treatment of Casey Sherman and Michael J. Tougias's 2009 book is straight up, leaving the awful force of the storm, its heaving walls of water as pulverising as liquid concrete, to run the show. This, you think as you watch the men contend with them, is what self-effacing heroism must look like, with its unyielding resolve in the indifferent face of death.