ANIMATION; 1hr 40min
VOICES BY: Dakota Fanning, Teri Hatcher, John Hodgman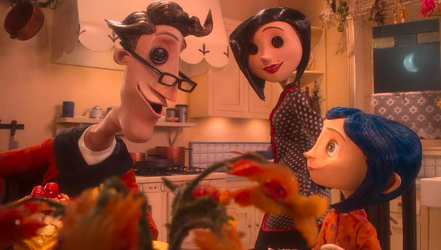 An imaginary life: Coraline and her second parents
When 11-year-old Coraline Jones (voiced by Fanning) and her frazzled folks (Hatcher and Hodgman) move into the 150-year-old Pink Palace apartments, she is in for a spooky windfall custom-designed for the textured perspective of 3-D. Coraline has the spindly frame and saucer eyes of an explorer. And when she discovers a small, wallpapered door, it seems only natural that she should dream of a parallel house behind it, complete with a second mother (Hatcher again) and father (Hodgman, ditto) with ragdoll-style buttons for eyes.
And what a house it is: a spruced-up, luxuriant wonderland of perpetual starry night with endlessly smiling parents, "dinner breakfasts" to die for and off-the-colour-charts stop-motion animation! In this bewitching Pink Palace, everyone is a better version of their drab everyday selves. Or are they?
Director Henry Selick is so obviously in love with the sinisterly tinged story that the caring treatment he gives Neil Gaiman's 2002 novella feels excessive and unwieldy, like a Technicolor dream that refuses to end. But the images — vital, crystalline and evocative — are all shades of miraculous.